New Year's Resolutions for Small Businesses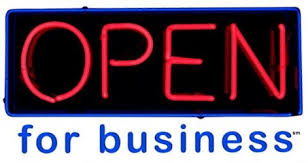 Alright, the holiday season is over. Now it's back to business. 2016 is ahead of us – that's a full 12 months of acquiring new customers, investing in new equipment and beefing up your bottom line. Now is the time to set your company's goals and have the right business in plan in place to meet and even exceed expectations.
Are you ready for 2016?
It's always important to keep in mind best business practices. YES Leasing would like to share with you some New Year's resolutions you should consider for the New Year.
Resolution 1: Audit Your Equipment
Whether you are a seasoned professional or a startup, the success of your business will depend on the skills you provide and the support equipment needed to accomplish your services. Make sure you have the equipment you need to meet your 2016 sales goals. Do you need new equipment to meet an increase in expected business? Does your existing equipment need to be updated?
If you need to replace outdated equipment or add to your existing assets, YES Leasing is here to help. We're in the business of leasing equipment to businesses like yours. Our application process is so easy it will only take 5 minutes of your time… apply for funding today!
Resolution 2: Manage Your Cash Flow
You've probably heard the saying "Cash is king." You may need cash to pay for everyday expenses, like inventory and payroll, and also to invest in equipment to support and grow their operations and profitability. Understanding your cash flow requirements is important – so make sure to regularly check your books and meet with your accountant to plan your finances responsibly.
If you are looking for new equipment to grow your business, leasing may be the best option for you. Purchasing equipment outright could be stressful and a financial burden – it means less money in the bank, and a smaller bank balance may put your company at risk of closing its doors for good.
That's where YES Leasing comes in! Some of the benefits of leasing with YES include:
You own the equipment at the end of the lease
You keep your cash to run your business
You preserve your credit for expansion or unexpected needs
You benefit from tax advantages of fully deductible lease payments and the recently increased Section 179 tax deduction limit
You can budget your expenses with a known payment schedule
Resolution 3: Update Your Website
Your business' website will be many people's first impressions of your company, products and services. It is critical to your branding strategy – including who you are and what you offer. Website problems arise over time, including broken links, missing titles, slow-loading pages and poor formatting. Whether you notice these errors or not, consider having an IT professional evaluate your website and ensure that all is working as it should.
If your website is looking old and outdated, it may be that time for a makeover. Whether you are budget constrained or not, we recommend taking a look at Wix or Squarespace for some sleek and easy-to-use templates.
Happy New Year from the team at YES Leasing. We look forward to working with you in 2016.